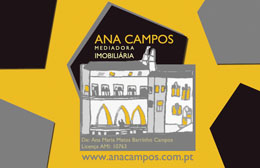 Welcome to ANA CAMPOS - Real Estate
With the evolution of the times of today, it is necessary to follow the development of society to lead us to a better future.
For 30 years Ana Campos - Real Estate aims to satisfy its customers with quality, transparency and efficiency, since the demand of the property until the acquisition process, demonstrating a commitment to loyalty and credibility on the part of current and future customers.
If you are looking for a property to rent, buy or even sell do not hesitate to contact us! From farms to villas, apartments or shops, we will do everything to find what you wish for, with a personalized and transparent service.
In addition to buying, selling and letting of property, Ana Campos - Real Estate also responds to other services relating to the process of purchasing a property, such as investigations into Town Halls, booking the deeds, preparation, presentation and collection of records within the competent Registry Offices, Finance and Land, as well as what was agreed in the respective Real Estate contract.
Contact us now, our doors are open to close good deals!
Registered in the Institute of Construction and Real Estate with the license of Real Estate No: 10763